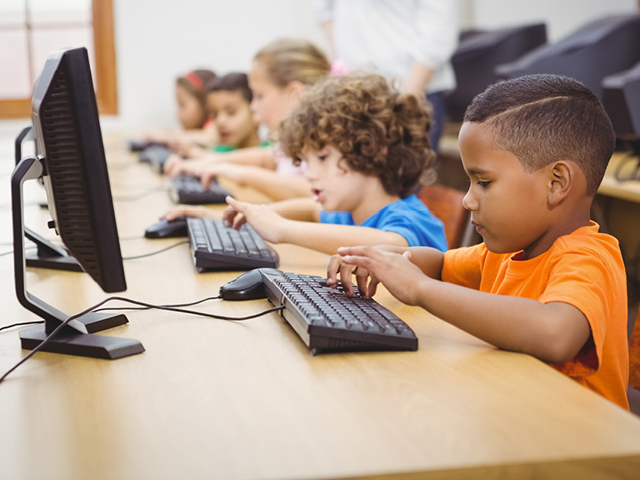 Code With Us: An Evolving Education
Around the world, the beginning of an increasingly digitized world increased productivity in the public and private sectors. For this reason, many countries are working towards a digital economy, which has only been accelerated by the pandemic. It is transforming many sectors of society, but naturally it will be more prevalent for the next generation. To truly prepare tomorrow's leaders for the next "digitized" format of the world of work, education will have to adapt quickly.
In the words of Albert Einstein, "We cannot solve our problems with the same way of thinking that we used to create them." With the global edtech market set to reach $404 billion by 2025, an understanding of technology and programming language will need to be implemented in learning if this digital transformation is to continue at its current rate.
Children are known to learn new languages ​​faster than old people, and in reality, coding is really just another language. It is therefore essential to start teaching children different programming languages ​​from an early age, which gives learners the best chance to absorb all the necessary information about the fast-evolving field of computer science. Code with us is a Silicon Valley-based EdTech organization and is one of the largest US-based EdTech schools. Let's see how they are helping to evolve education for the digital future.
Changing technological tides
Many countries– including Australia, Finland, Italy and England – have developed coding programs for children aged five to 16. For those who don't know, the coding language works with zeros (0) and ones (1), and the sequences of these numbers represent an alphabet. These then translate into words and phrases that trigger a computer or processor to initiate specific tasks.
With over 7,000 students from around the world, Code With Is helps propel coding education in the United States, Canada, Europe, Australia, and Asia. With a background in various programming languages ​​including robotics, virtual reality, 3D printing, and creative game design, they have a holistic approach to EdTech.
Their entire teaching staff is based in the United States and is made up of computer science graduates and students from top universities. Teachers are thoroughly vetted for their coding skills, teaching abilities, and background before joining the team, while undergoing regular training to improve their teaching and coding expertise.
Offering project-based learning and personalized attention to each student, their personalized programs implement step-by-step guides for students to create games and projects in the coding language of their interests. Teachers then explain and break down the steps of the code and its purpose while working collaboratively with students on projects. They focus on game design projects, as these generate a lot of interest in young students and keep them engaged in the subject. It helps to reduce the temptations of distraction, growing concern for many children, with their learning channeled into the online world.
A brighter future for the next generation
Studies show that people who start writing code at an early age will be able to design their own projects and applications in the future; and thus, the programmers of the future will contribute to having an impact on the development of their countries. Besides giving kids better opportunities when they enter the future job market, coding education has also been shown to have other positive benefits.
Some studies suggested that coding improves collaboration and communication, essential skills for jobs in all industries. Also, the coding builds logical thinking because it requires focusing on solving a specific challenge. This teaches learners to assess situations from different angles and come up with creative solutions, helping them to test ideas and, if they don't work, figure out what went wrong, in other words, the critical thinking and problem solving.
Code With Us encourages students to be continuous learners and to challenge themselves, motivating them to actively participate in coding competitions. These performances extend to Hackathons organized by large companies and groups, helping to maintain children's coding skills.
As the preferred partner of major tech players such as Google, Salesforce, HP, Intel and many other large companies for in-house coding events for kids and family, Code With Us will be a major force in the evolution of EdTech for future generations.
---