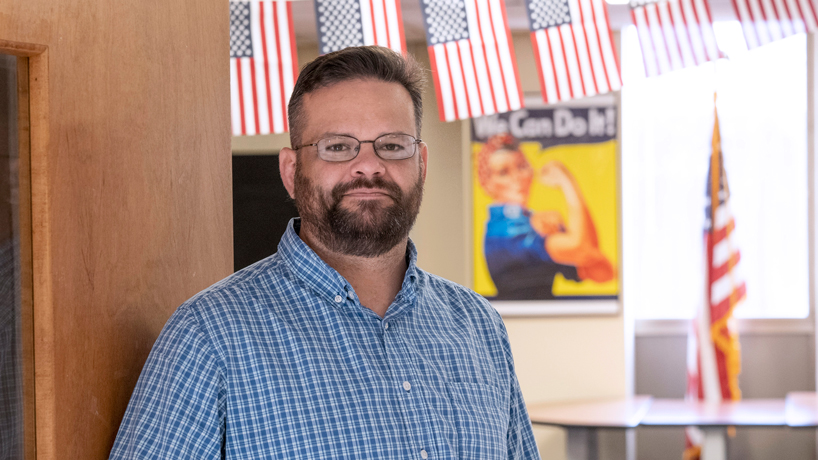 From Navy to UMSL: Benjamin Ebert's eclectic journey through higher education – UMSL Daily
The career and eclectic interests of Benjamin Ebert are the ingredients of a captivating biography.
Long before you began to study criminology, criminal justice and anthropology at the University of Missouri – St. Louis, he had spent 20 years traveling the world and serving in the US Navy. He traded it in for a single dad and a full-time student, who recently stumbled upon an internship at a museum in Ste. Genevieve, Missouri which will display the recently discovered remains of a previously unknown dinosaur species, Parrosaurus missourienisis.
There's plenty left on his plate, but adding to his culinary interests, full plates are what Ebert loves.
Ebert joined the Navy right out of high school.
"I've wanted to join the military since I was in middle school," he said. "So college never entered my mind. I didn't like school at all. I was a very active and energetic teenager, and school bored me. I grew up in the 80s, the days of the Cold War and GI Joe.
Growing up, Ebert learned to love his country through his family and religious community and was determined to serve. His time in the Navy was spent in intelligence work – servicing sonar equipment, anti-submarine warfare, and oceanography – and he became a security specialist, focusing on countering piracy, the maritime terrorism and international police.
Ebert traveled to every continent except Antarctica and lived in Japan and England for three years each. Although he loved his job, an unexpected turn of events led to his retirement.
He became a single father and with a dependent young son, Anthony, staying in the military was no longer viable.
"I said to myself, 'I can't stay any longer. I cannot deploy. What am I going to do with my child when I'm gone? ' Ebert said. "I thought I would just go home to where my family is. My goal has always been to retire here.
Another goal was to go to college. Ebert realized the lack of mobility of people without a college degree when he was in the Navy, but he also wanted to pursue higher education to be an example to his family and peers.
He retired on July 31, 2017, enrolled in community college the following month, and has been attending school ever since.
Ebert sought an education consistent with his cultural interests.
"I wanted to go to school of culinary anthropology because culinary anthropologists study food," he said. "This field is so small. There was nowhere to really go to school for that.
So Ebert created his own path.
He attended Jefferson College and earned an Associate's Degree in Criminology and a Certificate in Culinary Arts while maintaining a 4.0 GPA. He also took advantage of a three week cultural education excursion.
"I went to South Africa and studied apartheid and international diplomacy at the University of Johannesburg and the University of KwaZulu-atal," he said.
After graduating from Jefferson College, he wanted to pursue a bachelor's degree.
Ebert's global experiences impacted his educational choices. He loved his opportunities to travel, observe and immerse himself in different cultures. He has a great interest in people, behavior and cultural traditions. Finding the right teacher training was not easy. Ebert's ability to shape his own education was just one of the factors that led him to UMSL.
"I have investigated Lindenwood, UMSL and Missouri Baptist," he said. "Neither Lindenwood nor the Missouri Baptist honored the Missouri Returning Heroes Act, so I ended up applying to UMSL. UMSL has been ranked among the top 10 schools in the country for its criminal justice programs. They also teach anthropology. I wanted to pursue a double major. I wanted to pursue studies in criminology and criminal justice for a Bachelor of Science and obtain a Bachelor in Anthropology. This school was a great choice as they offered both programs. UMSL also attracted me because they had a dedicated office for incoming veterans.
Military Times ranked UMSL first in Missouri and 37th nationally for its support of veteran students. This dedication to veterans not only attracted him, but inspired him as well. Ebert joined UMSL's efforts to support veterans by volunteering in the Veterans Center, where he helps other vets obtain information about the university and its offerings.
He is in a good position to help others with questions, as his own academic activities are vast. In addition to volunteering at the Veterans Center, Ebert balances his internship at the brand new Learning center of the Sainte Geneviève museum, where he gives tours and helps cataloging exhibitions.
Ebert was looking for an internship that engaged another of his interests: paleontology. A Google search found five organizations that matched him. He interviewed with Guy Darrough, curator of the Learning Center of the Sainte Geneviève Museum, who hired him to work that day by giving tours.
Knowing nothing about the space or the exhibits, Ebert did his best and has interned there ever since. Little did he know he had landed in a museum that would attract international attention to house the finds of a newly discovered dinosaur species.
One wonders how Ebert balances the demands of school, volunteer work, and the education of his son, Anthony. He has his challenges, but he is content with what others may consider sacrifices.
"Being a father is a blessing," Ebert said. "It made me a better man. Life as a single dad in school means that I miss some things on the UMSL campus because I have to come home, clean, cook, etc.
To make his life and that of his son manageable, he relies on an efficient organizational system.
"I have a lot of alarms on my phone," he said. "Every semester, I reprogram my phone according to my son's school, my mom's work schedule, and my class schedule. My life is extremely organized. The only problem with this is that when something is messed up, the system can become difficult because there is little wiggle room for unforeseen events. Sunday is usually my homework and remedial day for the week.
With a busy schedule, Ebert allows for downtime.
"I observe Shabbat from Friday evening to Saturday evening, so I will not be doing any work for a day," he said. "It allows me to recharge my batteries for another demanding week of work. "
And all the hard work will pay off.
As he enters his final semester, Ebert is expected to complete a bachelor's and master's degree in criminology and criminal justice through the BS and MA dual degree program and will also add a degree in anthropology. He is also a minor in global health, social medicine and military history.
Ebert enjoyed his time at UMSL and can't wait to be featured in the next Chancellor's advice meeting in February.
He also eagerly recommends the university to others who are considering attending.
"It's the best dollar value for your education," he said. "The UMSL is part of University of Missouri SystemSo start local, if you live in the St. Louis area, that's great.
Short url: https://blogs.umsl.edu/news/?p=91961