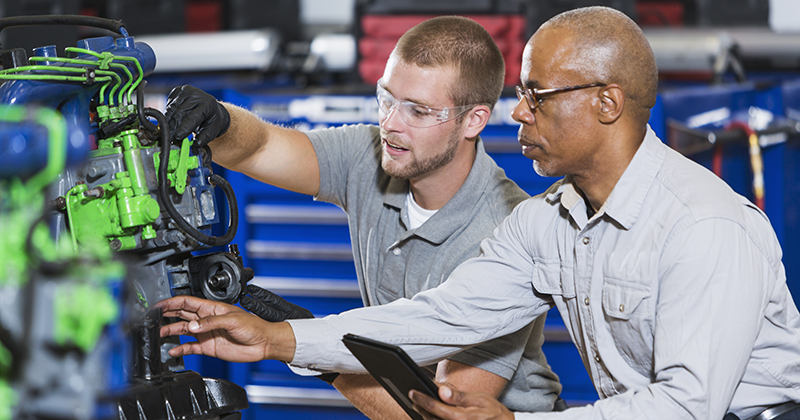 Higher technical education belongs to FE – let's show why
Research project will advocate for colleges offering higher technical education, writes Ian Pretty
Earlier this year, the government announced its intention to improve the standard of technical education in the UK by publishing the Skills for Jobs white paper (often referred to as the FE white paper).
In this document, the government specifically highlights the improvement of relations between providers of VT and employers.
This is so that the skills delivered by these courses more closely match the gaps currently plaguing the UK workforce and contribute to the government's ambitions for a highly skilled and well paid economy.
"White paper fails to identify suppliers"
The UK lags far behind comparable economies in the availability of vocational and technical skills.
As a result, there are fears that England's place in OECD rankings will suffer, if current trends continue as expected.
Nonetheless, this white paper has done little to determine which providers are best positioned to deliver the education needed to bridge this gap.
Increasing the supply of higher technical education at levels 4 to 5 is seen as a key way to address this.
'Graduates return to study level 4'
Typically, courses at this level are more professional in nature than those offered at level 6 (university level) and often work in conjunction with employers to provide students with experience tailored to specific industries.
For example, while an engineering degree involves a lot of university study, a Level 4 course marketed to someone wishing to become an engineer may specialize in a specific type of engineering, such as robotics or electricity.
However, it would also teach them the skills to immediately start working in this field.
There are more and more reports of technical subjects returning to study at level 4 or 5 after graduation so that they can start working.
If students are forced to go through lower levels of education to find employment in these industries, it really calls into question the need for them to get a degree in the first place.
There is also evidence that students who undertake these courses often receive higher salaries than those who obtained undergraduate degrees.
But systemic biases in our education and employment systems still make degrees the way forward for those who wish to continue their education beyond Level 3 (A / T levels).
Systemic biases always make degrees the way to go
Therefore, most participants in Level 4 or 5 courses are among the older learners, with 30 being the average age of students currently enrolled in these courses.
"We need a base of evidence"
We agree with the government that more emphasis needs to be placed on higher technical education to meet the needs of key parts of the UK economy.
In our view, achieving this ambition is only possible if the college sector, especially large college groups, play a central role in the development and delivery of higher technical education.
As a result, Collab Group has embarked on a substantial research project to build an evidence base to support this claim.
This research will focus on educational excellence, value for money and how we can ensure effective destinations for those who complete these courses.
To build this evidence, we will be undertaking substantial fieldwork within our colleges over the coming months.
We are convinced that the findings of this project will demonstrate the capabilities of the college sector.
The specialties of the major colleges will be at the forefront of the rise of higher technical education in the years to come.
In addition, we believe that these results will provide useful information for policy makers, employers and others on the areas on which they should focus.