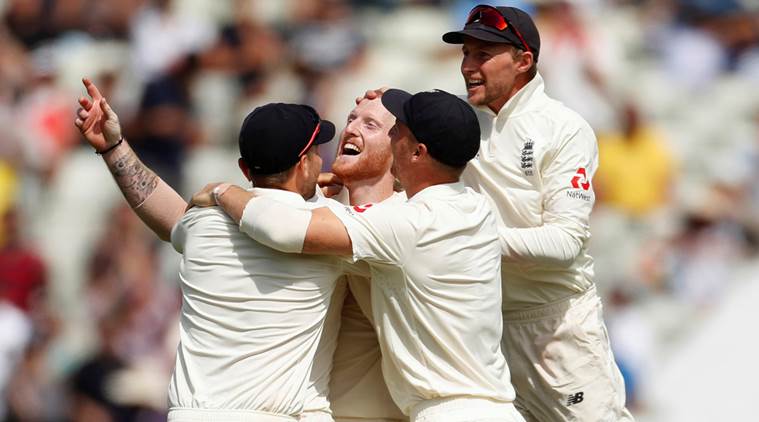 India vs England: English media hail 'Super' Ben Stokes after thrilling victory at Edgbaston
After a thrilling victory against India in the first test at Edgbaston, the English media praised Ben Stokes for his formidable performance. With the home team needing 5 wickets to win, Stokes fired Indian skipper Virat Kohli for 51 to put his team on the winning course. He also fired Mohammed Shami in the same inning, then came back to deliver the final blow, sending Hardik Pandya away for 31. The Three Lions won the game by 31 points, with Stokes finishing in 4/40 numbers.
Here's how the English media reported the victory:
Sunday Times
The Sports Used section of the Sunday Times used an image of Ben Stokes celebrating with the headline "Court Jester". The article linked Stokes' success to his upcoming brawl trial. The caption read: "Two days before the brawl trial, Stokes propels England to victory in 1000th essay thriller". He further wrote in the image: "Dazzling success Ben Stoke celebrates taking crucial wicket from Indian captain Virat Kohli. England have won a captivating first test at Edgbaston by 31 races.
Sport Mail
Mail Sport used the same image of Stokes celebrating Kohli's wicket with the headline 'We're going to miss our Big Ben' and spoke about the team missing the all-rounder for the second test due to their upcoming brawl trial. The article written by Chris Stocks said: "Ben Stokes showed why he will be irreplaceable for England at Lord's this week by having the deciding word on the final day of an exciting first test against India. struck twice on his first try, including Indian captain Virat Kohli's key wicket with his third ball, before sealing a tense 31-point victory with the dismissal of Hardik Pandya. They also reported a second article on the way skipper Joe Root missed Stokes for the second test.
Sport express
Express Sport wrote a column on Root praising the versatile Ben Stokes. They used the image of the two celebrating together with the title: "Root hails Super Stokes". The strap read, "Big Ben and Curran seal classic victory. The Jim Holden article read referred to sections of Joe Root's press conference in which he praised Stokes' efforts.
The independent
The independent used a full-page photo of Stokes celebrating with Root with a one-word title – "Stoked!" In the strap of the photo, the caption read – "England beat India in an exciting first test". At the top, the intro read: "English captain praises bowlers after opening test win".