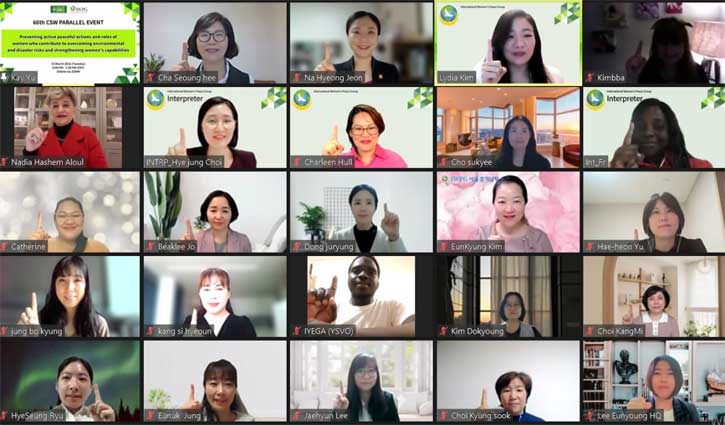 IWPG Organizes Event to Realize Peace Education
The International Women's Peace Group (IWPG, President Hyun Sook Yoon) held a side event during the 66th UN Commission on the Status of Women (CSW).
The event was held under the theme of "showcasing active peaceful actions and women's roles that contribute to overcoming environmental and disaster risks and building women's capacities". He presented a plan to achieve the goal of peace education, addressing the fourth Sustainable Development Goals (SDGs), and provided information on women's peace education to strengthen women's empowerment .
Na Hyeong Jeon, General Secretary of IWPG, said, "Let us join forces to lead women towards lasting peace so that we and our children are not drawn into war and conflict. The IWPG establishes just values ​​through peace education, and since it is difficult to effectively sanction war under current international law, the Declaration of Peace and Cessation of War (DPCW) should be established in as new international law.
Nadia Hashem Aloul, former Minister of State for Women's Affairs of Jordan, said: "Peace education is a fundamental pillar and is important for building bridges of dialogue between oneself and others, between different groups, societies , country, and helps to accept diversity.
As stated by one of the goals of the IWPG North Macedonia Peace Committee, Professor Lindita Ademi of the University of Tetovo, "another urgent goal is that we continue to speak out for peace because it is the only way to demonstrate the power of women, our will, our capacity, our competence and our resilience to implant peace generation after generation.
In addition, Maha Alsakban, founder and director of the Iraqi Center for Women's Rights, and Kimberley Kleczka, founder of Koolamundo from England, spoke about conflicts and wars in the world, the extent of the damage caused by disasters environmental disasters, examples of women's dedication and efforts to overcome environmental disasters, the need for peace education and the vision that peace education can offer and women's efforts and roles in achieving peace sustainable.
As an NGO in Special Consultative Status with the United Nations ECOSOC, IWPG plans to co-organize a side event with the Ministry of Women, Family and Gender of Côte d'Ivoire on 17 March in addition to this side event. From March 14 to 25, the "Virtual Forum" will be held for about two weeks, and it is expected to be a platform for interaction with many women around the world.
You can visit the IWPG booth via the link below.